Galactic Battlegrounds Torrent
Never
Not a member of Pastebin yet?Sign Up, it unlocks many cool features!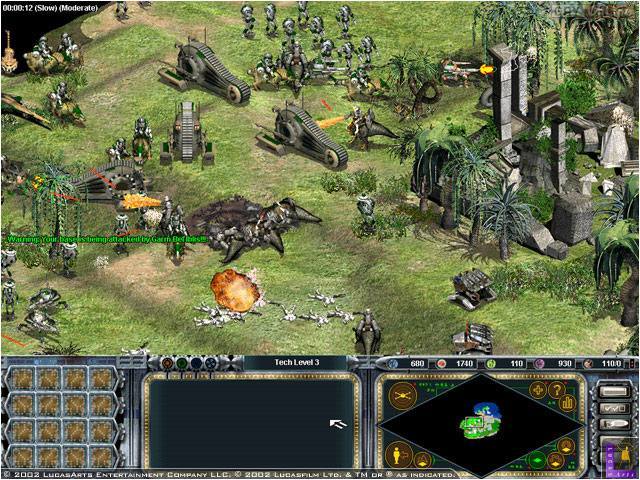 --------------

To install Star Wars Galactic Battlegrounds you will first need to download this torrent. If you don't have a torrent client, download uTorrent, it is free and easy.

http://thepiratebay.se/torrent/3844620/Star_Wars_Galactic_Battlegrounds__the_Clone_Campaigns_by_Lime

https://kickass.so/star-wars-galactic-battlegrounds-the-clone-campaigns-by-lime-t424638.html

Once you're done with the download. You will then need to mount the ISO files that you just torrented. You will need to mount both files.

In order to mount the 2 ISO files, you will need a program such as MagicISO, Daemon Tools, etc. I personally use MagicISO.

To mount them on MagicISO and similar programs, simply go to Virtual CD/DVD-ROM (its under one of the menus), and then Mount the Install ISO first.

That will then immediately prompt you to install the game. So obviously install the game. Then after that, Mount the Play ISO file. That will prompt you to play the game.

You do not need the Install ISO to be mounted after the game is installed but you do need the Play ISO mounted to play the game outside of Voobly.

Anyway once that is all setup, you will need to download and install Voobly to play Star Wars Galactic Battlegrounds online:

http://www.voobly.com/

Once Voobly is all setup, you can go to the Game Browser window, scroll to the bottom of the Game List to find Star Wars Galactic Battlegrounds. (SWGB).

The torrent includes both the original and the expansion 'Clone Campaigns.'

Once you are in the SWGB Clone Campaigns lobby, you will be prompted to locate the game on your computer. Simply direct Voobly to the battlegrounds_x1.exe file which should be located in your PC here: C:Program Files (x86)LucasArtsStar Wars Galactic Battlegrounds SagaGame

Then Voobly will prompt you to leave the SWGB Clone Campaigns lobby. Simply close it and rejoin the lobby through the Voobly Game Browser.

The final thing that you need to do is Host a Room in the lobby. Clicking Host will open a Room window. On the new window, click Game at the top, then Resolution Tool, and then select Force Desktop Resolution In Game. Next, go to Game at the top, then DirectX, and select Render in 32-Bit Color. After that you will be all set and ready to play SWGB online!

Optional (For Single Player fixes without Voobly):

If you want to play Single Player but still have the awesome widescreen resolution from Voobly, you can Host a Room, go to Settings and input a password so no other players can join, and then go to Game at the top and select the option Start at Singleplayer Menu. There are other ways to play SWGB in Singleplayer with Widescreen support, but those require some other third party mods. Note that all players must have the Widescreen mod (doesn't matter on Voobly) to avoid Out of Sync errors. You can download a Widescreen mod here:

http://swgb.heavengames.com/cgi-bin/forums/display.cgi?action=ct&f=1,61910,10

There are instructions for how to install that mod on the download page, just scroll to the last comment. Basically, extract the exe to your Game folder here: C:Program Files (x86)LucasArtsStar Wars Galactic Battlegrounds SagaGame and then extract the two Drs files to C:Program Files (x86)LucasArtsStar Wars Galactic Battlegrounds SagaGameData.

If you are running Windows 7 or a newer OS, your in-game colors may be corrupted unless you are playing on Voobly. To fix this, simply open Task Manager and close the Explorer.exe process. This will temporarily make your Desktop appear to be invisible. When you are done playing SWGB simply reopen Task Manager and run the process Explorer.exe and your Desktop will reappear.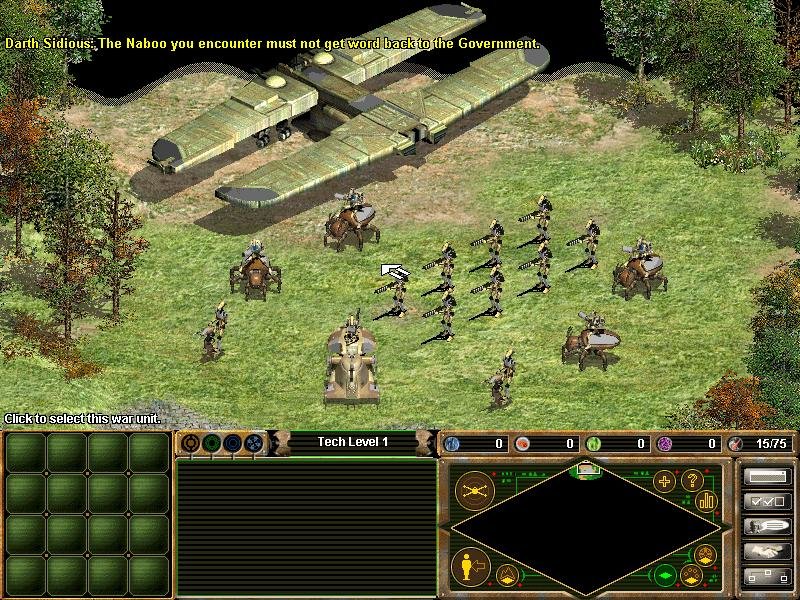 # # Manufacturer : LucasArts
# # Site of the manufacturer: Manufacturer
# # Screenshots: Photos
# # Comment : he destiny of a galaxy hangs in the balance, and you're in command. Star Wars: Galactic Battlegrounds lets you lead Star Wars armies to victory in intense real-time strategy clashes. Enter the fray as the Galactic Empire, Rebel Alliance, Trade Federation, Wookiees, and other civilizations or organizations in campaigns that will determine the final outcome of the Galactic Civil War. Star Wars: Galactic Battlegrounds is an epic real-time strategy set against a backdrop of the entire Star Wars saga. The conflicts involve six key civilizations: Galactic Empire, Rebel Alliance, Wookiees, Gungans, Royal Naboo, and the Trade Federation. Execute your campaign over land, sea, and air with more than 300 different units and structures in single-player campaigns, skirmishes, and multiplayer battles.
Combat arenas extend from interstellar asteroids and aerial encounters to submerged cities and ground battles. Deploy vast legions of units into battle - up to 200 per side - with groups that include bounty hunters, Jedi Knights, stormtroopers, X-Wings, AT-ATs, snowspeeders, AT-STs, Wookiee Kas tanks, and droids. Manage your resources and integrate the power of upgradable technology into your strategy, such as Wookiee ingenuity, advanced Gungan biotechnology, and Jedi stamina. Each technology level brings new wonders and new forces. Star Wars: Galactic Battlegrounds features accessible gameplay built upon the familiar RTS engine adapted from Ensemble's popular Age of Empires series. Use the scenario editor to create custom single or multiplayer battlegrounds with virtually any Star Wars units and settings.
# # Requirements:
Minimum Requirements:
P233MHz
32MB RAM
2MB graphics card
Recommended Requirements:
Pentium 266 MHz
64 MB RAM
4 MB DirectX-compatible video card
# # Additionally:
1. Unrar
2 . Go to folder 'Game' and start 'Battlegrounds'
3 . Play
Star Wars Galactic Battlegrounds Mods
Galactic Battlegrounds Wiki
Star Wars Galactic Battlegrounds And Clone Campaigns Complete Pc $12.00 Star Wars Galactic Battlegrounds Saga Jewel Case Pc Windows Complete $11.99. Swgb No Cd Crack - uploadgarden. Crack nocd - Star Wars Galactic Battlegrounds Clone Campaigns torrent download from Games - Windows (PC) torrents. Parche para la edici. Search Torrents Browse Torrents Recent Torrents Top 100 All Music Audio books Sound clips FLAC Other Movies Movies DVDR Music videos Movie clips TV shows Handheld HD - Movies HD - TV shows 3D Other Windows Mac UNIX Handheld IOS (iPad/iPhone) Android Other OS PC Mac PSx XBOX360 Wii Handheld IOS (iPad/iPhone) Android Other Movies Movies. Leechers: Info Hash. Star Wars Galactic Battlegrounds Saga Free Download PC Game pre-installed Read More.
Galactic Battlegrounds Windows 10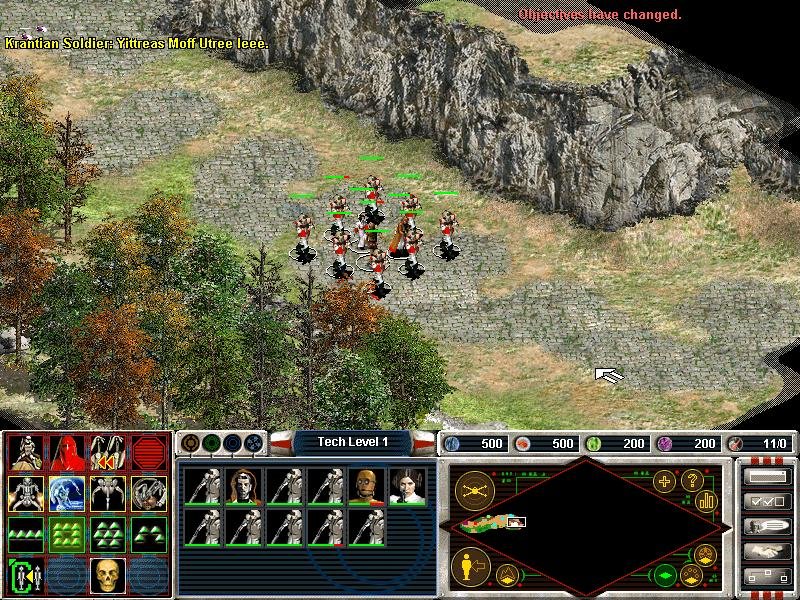 Star Wars Galactic Battlegrounds Torrent
Torrent Download: